[fusion_builder_container hundred_percent="yes" overflow="visible"][fusion_builder_row][fusion_builder_column type="1_1″ background_position="left top" background_color="" border_size="" border_color="" border_style="solid" spacing="yes" background_image="" background_repeat="no-repeat" padding="" margin_top="0px" margin_bottom="0px" class="" id="" animation_type="" animation_speed="0.3″ animation_direction="left" hide_on_mobile="no" center_content="no" min_height="none"]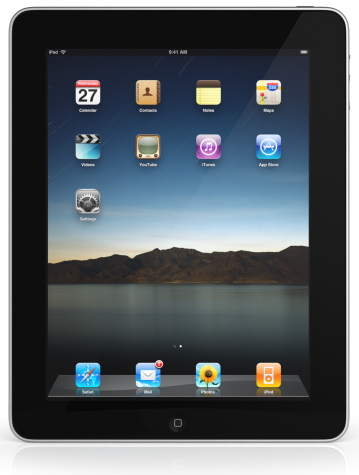 The Apple iPad has been the center of a storm of controversy this week after it was announced on Wednesday. Given the long anticipation and wild rumors preceding the actual announcement it's no surprise that some people are disappointed. Others, like myself, and eager for iPads to start shipping.
I'm not going to try to refute the criticisms out there or try to argue with folks about their unrealistic expectations. Instead I want to share why I personally am excited about the iPad and how I see myself using it.
The iPad is closer to a 10″ iPhone than a small MacBook. It runs the iPhone OS, and will run iPhone applications from the App Store, which means there will be a ton of things you can do with it, and new applications written just for the iPad emerging soon. However, just looking at the core functionality, you can:
Read and Send E-mail
Surf the Web
Check and Change your Calendar
Listen to Music
Watch TV and Movies
Read Books and Magazines
Write Pages, Numbers, and Keynote Documents
Work: As much I know you're supposed to start off your day working on some specific task to help get momentum going, the reality is I usually spend the first hour or two of my work day reading, replying to, and sending e-mail, checking my calendar for the day, checking a few websites for news, checking Jira for what I'm going to today, checking my OmniFocus to-do list, and listening to some music. I also spend a decent chunk of time writing documents in Pages. I can do all of that on an iPad, anywhere. That means I'm free to start out my day drinking tea in the kitchen or flop down on the couch in the library, or pop out to the local coffee shop. I just have to carry a 1.5 lb iPad and I can work. That's VERY appealing to me.
Around the House: I use my iPhone all the time to look things up online, check maps, my calendar, obsessively check my e-mail, control my music in the house, and show people neat things. The iPad does all that, but has a much bigger screen which will be VERY nice. Long term I'd love to see it integrate with more things and become a house remote control, hooked into all my entertainment options, the lights, locks, thermostat, smoke detectors, alarm system, CO sensors, etc… and to work just as well anywhere in the world as it does within the house.
Travel: I'm a big guy, and my laptop is a 17″ MBP, which while perfect for the heavy lifting of most of my job, is awful for travel. With the exception of the extra legroom area on JetBlue flights, I cannot use my laptop safely/comfortably/effectively in coach on any domestic US airline. The iPhone's small screen makes watching movies doable but not great, and worse you have to either hold it up in front of you for hours on end, or tilt your neck 90 degrees and stare down at it on your tray table. Plus you run the risk of running out of batteries on your phone once you get to where you're going. The iPad will let you watch video on a 10″ screen, read books or newspapers, catch up on e-mail, etc… with a 10 hour battery, and no impact to your phone. Big fan.
Meetings/Day Trips: The iPad is perfect for meetings or day trips. You can do work, take notes, run a projector, send e-mail, etc… In fact on my last day trip/meeting I could have brought an iPad instead of my whole laptop bag. That would have been very nice.
Do I NEED one? No, my laptop and iPhone work pretty well in most cases. Are the uses I laid out above worth a few hundred bucks to me, yes they are. I think, like the iPod and iPhone before it, while no one NEEDED one, it won't take long before the iPad becomes an ingrained part of our daily lives.
Another thing to consider is that many people who have computers but aren't super technical really only do the following things: surf the web, email, write documents, look at photos, watch videos, and listen to music. An iPad would be a reasonable replacement for many folks (I'm looking at you Mom!).
So, if you don't want one, or it doesn't meet your needs, or you wanted a $14.95 14″ 1.5 oz 3 GHz machine with ESP, that's all fine. But for me, it looks like a very promising product that while I don't NEED it, will probably make things easier and more pleasant for me in many cases.[/fusion_builder_column][/fusion_builder_row][/fusion_builder_container]