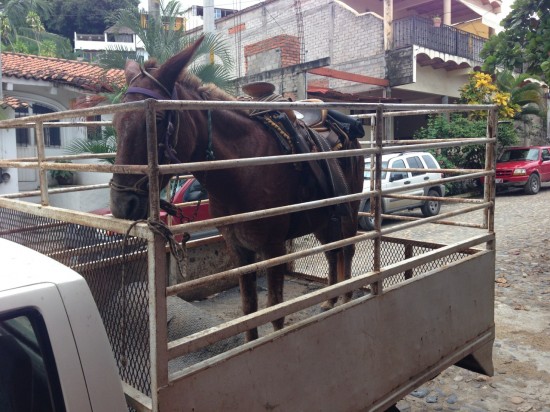 Now that I've been working from Sayulita for the past week, I wanted to summarize some of the important things I've discovered so far:
If you turn on data roaming on your iPhone to use the Maps to get from the airport to your rental, be sure you' don't have the App Store auto-update turned on shortly after iOS7 is released, or you may rack up 1.2 GB in international data charges while you drive….

The internet here is SLOW.  Extremely slow.  It gets worse in the late afternoon and evening as people come home from work and get online in the town.  My early schedule is a benefit here.  Overall I've adapted to the lack of bandwidth, and it's not a hindrance to most of my work.  I would be hard pressed to download an 8 GB heap dump for analysis, however email, SSH, SVN, Skype, Campfire, etc… all work fine (you just have a be a little patient sometimes).  Checking actual network speeds will be something I do for any future trips like this.  

I've switched from my cell phone to Skype for most of my day to day phone calls and con calls.  It's worked well as far as I can tell and saved me a good bit of money.  It's still not free however.  I may switch to using Bria on my iPhone and our phone.com VOIP account as it should be a little cheaper.

While my plan to start the days early has worked pretty well, the plan to end the day early as well has struggled.  There's too many con-calls scheduled for 4 PM or 5 PM and too much going on to make it easy to knock off after 8 hours.  I need to be better about this.

It has been tough on my wife being essentially alone in a strange town while I'm busy working.

We lost power during a storm.  It wasn't for very long and the same thing happens in Boston as well, but depending on where you're going, and how time sensitive your work is, it's something to be aware of.

Being able to jump in the pool and do a few laps does amazing things for refreshing your mind.  A short walk at home would probably do the same, but the office isn't super conducive to that type of thing.  

I'm a lot better at putting the laptop away, and not compulsively checking email/etc… on the phone all night than I am at home.  I'm not sure why, but it's great!
Overall I'm getting tons of work done, am focused and not distracted, and communication hasn't been an issue.
Next Week
Going forward I want to try working from one of the coffee shops downtown for an hour or two at least a few days this week.  A change of pace would be nice, plus they make a great iced soy chai!  And for lunch I can walk down to the beach and get fish tacos and watch the waves.  Hard to argue with that.
I want to try to be better about quitting for the day after 8 hours (or less!?!?).