I just returned from a week in Hawaii. I'd never been before, but now I definitely want to go back!
Emma, her parents, her brother, his girlfriend, and I traveled to Honolulu via Salt Lake City. We stayed in a house on the ocean on the North Shore of Oahu. The view was amazing all the time. We were just across the road from an airstrip popular with skydivers so it wasn't unusual to look up and see 4-6 sky divers flying around over the ocean before sweeping back over land and heading to the DZ.
I managed to get hit by a big wave on my first day, which soaked me from my neck down, and killed my iPhone and digital camera, which were in my pockets. Having a week without a phone was very…. good/odd.
I rented a motorcycle which was fun. The roads were amazing, and it was nice to have my own transportation. Riding along, in perfect weather, with the ocean on your left, and steep jungle mountains on the right… it was amazing.
We took surfing lessons one day. Something that Emma excelled at, and I was pretty bad at. It was still lots of fun. Even if you suck at surfing, floating around in the ocean in Hawaii is a good way to spend time.
We went swimming a bunch, went to the Dole plantation, rode the motorcycle around, ate out, cooked in the house, had great breakfasts, read, slept, made awesome sand castles, toured Pearl Harbor and the Bowfin submarine, and generally had an amazing time!
You can checkout photos from our surfing here: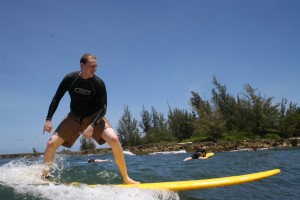 And other pictures from our trip are here: