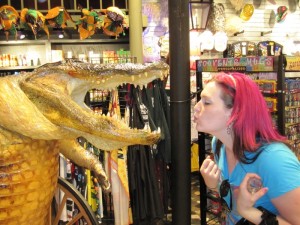 Emma and I went to New Orleans last week to attend my friends Bryan and Jen's long overdue wedding. I had been to New Orleans once before, about ten years ago, so it had been a long time, and Emma had never been there before.
We stayed at the Sheraton on Canal Street, which is right on the west border of the French Quarter. We spent our first day just walking around the French Quarter, taking a mule carriage ride, doing a haunted sites tour at night, eating at Cafe Du Monde, and soaking up the city. Things were more or less how I remembered them, the only differences I noticed were there were a number of closed business and boarded up building. I'm pretty sure it smelled worse than last time I was there, but I may have just forgotten:)
The wedding rehearsal was on Thursday, and the real wedding was on Friday. The wedding was lovely and took place in an art museum which was amazing. The reception took place at night in an amusement park and was one of the most fun and magical times I've had. Being the only couple on the ferris wheel looking out over the city was a once in a lifetime experience.
Photos from our trip to New Orleans 2009!