On Tuesday I woke up at at 4:30 AM and caught a 7 AM flight to Denver, and then a flight from Denver to Columbus where I got in around 6 PM.  I caught a cab to my favorite area hotel, The Lofts, which is within walking distance of the Resource Interactive office.  After unpacking, I tried to find someone who would deliver food that wasn't pizza.  To no avail.  Finally I ended up with some pizza from Donatos.  Not bad, but too greasy for my tastes.
I passed out around 9 PM (6 PM Seattle time) from exhaustion, unfortunately my body was totally confused, and woke me up at midnight.  I was unable get back to sleep until around 2:30 AM, then woke up at 6 AM (3 AM Seattle time), packed, checked out, and walked to the office.  I had a round of interviews starting at 8 AM (5 AM Seattle time), which I think went well, although I was pretty exhausted.
After a few more meetings, I headed back to the airport, flew to Chicago, then home to Seattle, drove home, passed out.
This is my hair at 3 AM: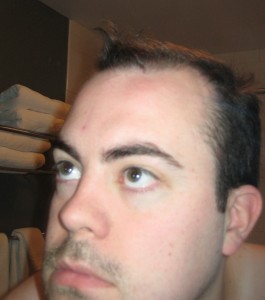 Here are some pictures of my hotel room:
And the Resource sign: