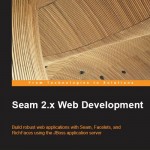 Packt Publishing just sent me a copy of their new Seam book entitled Seam 2.x Web Development. Authored by David Salter, it seems to be a well laid out practical guide to building web apps with Seam 2. I've only skimmed it so far, but will be posting an in-depth review once I'm able to read through it.
It's great to have a book that covers the new features of Seam 2 and provides examples of common Web 2.0 requirements such as OpenID integration, AJAX/RIA interfaces, and multi-tabbed browsing support using conversation scoped components. Personally I'm interested in reading about the new(ish) Identity Manager API (which I haven't played with yet) and trying to add OpenID support for the application I am currently building.
You can read the second chapter online here: Chapter 2: Developing Seam Applications and let me know what you think of it!