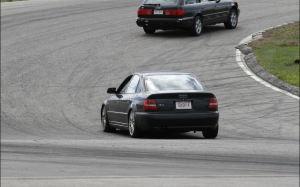 Two weeks ago I took my Audi S4 up to the New Hampshire Motor Speedway for an Audi group track event. Spanning two days the event was a mix of classroom learning and track time, usually with an instructor in your passenger seat, coaching and giving feedback and advice as you drive around the track, pushing your car and yourself.
It was awesome!
Other than the winter driving school I attended this past winter, this is the first performance driving event I've done in my car, and my first one on a track. I took my Ducati on this same track about 10 years ago (which was also an amazing time). I learned an amazing amount about driving, and my car. I really pushed my car and myself and had a fun time doing it. I also met some great people from all walks of life and driving all types of cars. Hopefully it won't be my last time on the track!
Thanks to everyone who put the event together, my awesome instructor Mark, and everyone I met there who made the experience that much cooler.
You can see video from another car in my group here (you actually can see my car right at the end when they're pulling into the pit):